The team at Seddiq Law is honored to share that founding attorney Mirriam Seddiq has recently been spotlighted by Mark Herring, Attorney General of Virginia, for her advocacy work in assisting those whose lives had been upended by the Trump Administration's 2017 Muslim ban.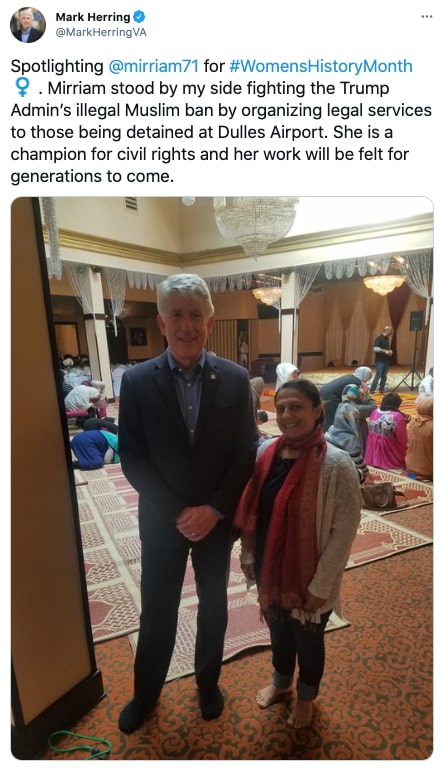 The ban, signed into law on January 27, 2017, had prohibited entry to the United States for individuals from seven majority-Muslim countries along with refugees of all nationalities.
As the impacts of the ban began to take shape, they proved catastrophic to the lives of those unfairly targeted by it. One of the first of these impacts was the detainment of individuals and families traveling through U.S. airports.
Once they learned of those being held at Virginia's very own Dulles International Airport, Mirriam Seddiq, Mark Herring, Justin Eisele, and other legal advocates swooped in to form Dulles Justice, a nonpartisan alliance of volunteers united by the desire to defend the Constitution and human decency.
The coalition spent hundreds of hours camped out at the airport to offer legal advice and a message of solidarity for those in the grips of this destructive piece of legislation, and our firm is proud to have been a key part of this incredible movement.
Although the Muslim ban was lifted on January 20, 2021, we know that our work is not done here. As we continue to celebrate the end of the ban's four-year reign on our immigration system, Seddiq Law remains committed to upholding democracy and justice for all.