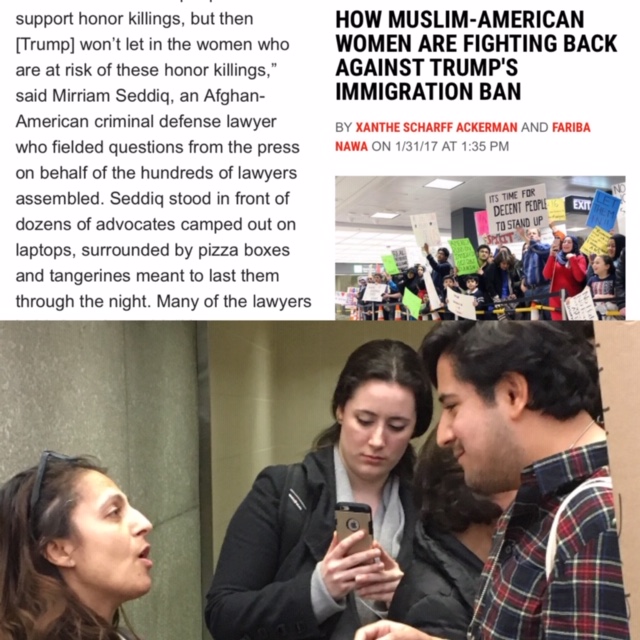 Don't Put Your Fate in the Hands of Those Who Are Anti-Immigrant. A Naturalization Lawyer Maryland Can Help.
Are you looking for a naturalization lawyer Maryland? If the past four years has taught us anything is that there are no guarantees in the United States of America. This is especially true for those who are not citizens. From the very beginning of the Trump administration and their Muslim Ban there was an attack on what makes our country great: our immigrants and our diversity.
Mirriam and Justin were at the airport for three months fighting against the Muslim Ban and we know how important it is for our immigration clients to file for citizenship as soon as they are eligible. We cannot rely on the good nature of the United States government. You must protect yourself. Shockingly, a third of citizenship-eligible green card holders, or around 9.3 million people, have yet to apply for their citizenship.
The Benefits of Citizenship are Numerous!
Do not delay! Some obviously benefit of citizenship are:
You cannot be deported to your country of former citizenship or nationality. You'll have just as much right as any other American to live and work in the United States. Even if you're charged with a crime in the future, you'll be able to stay in the United States. (Although recent news reports have indicated that the U.S. government plans to pursue more "denaturalizations" based on prior criminal offenses, this should not affect the vast majority of naturalized U.S. citizens.)
You can travel with one of the most powerful passports in the world. Applying for a U.S. passport after receiving your Certificate of Naturalization is a major benefit of U.S. citizenship. With a U.S. passport, you can travel to more than 180 destinations for short-term trips without a visa, take as many trips abroad as you want for as long as you want, and seek assistance from the local U.S. embassy during times of trouble.
You can obtain federal benefits available only to U.S. citizens. Upon naturalizing, you'll gain full access to certain government benefits programs, such as federal college assistance available only to U.S. citizens.
You can apply for a green card for your relatives. You'll be able to sponsor your parents, adult children, and siblings for their own green cards.
Your children automatically become U.S. citizens — even if they're born abroad. You'll simply need to report your child's birth to a U.S. embassy or consulate.
You no longer have to deal with immigration paperwork. You won't need to renew your green card or pay immigration filing fees. You also won't have to notify USCIS every time you move.
You can apply for jobs with the U.S. government. Most federal employment is reserved only for U.S. citizens. Although every job has its pros and cons, federal employees and their families tend to receive relatively better benefits and earnings than private-sector workers.
You can vote in any U.S. election. Only U.S. citizens can vote in federal elections. Non-citizens may only vote in some local elections. If you want to influence leadership in your community or in the United States overall, the voting booth is the place to start.
You can run for elected office. U.S. citizenship is required for federal office and for most positions in public office at the state and local levels.
We Can Be Your Naturalization Lawyer Maryland.
If you have a green card, please file for your citizenship as soon as possible. If you are reading this post, we would be happy to offer you a free consultation for your naturalization. Mirriam Z. Seddiq has decades of immigration experience. Not only does she defend immigrants as a job, she also fights as a passion. She spent months at Dulles Airport during the Muslim Ban.
Just give us a call at 301.513.7832 or click the online appointment scheduler at the top of the page. We look forward to hearing from you! We want to be your naturalization lawyer Maryland.