Arkansas representative Charlene Fite does not like to be criticized. So much so that she had someone fired for doing it. Corruption in Arkansas government is not new. Two branches of the Arkansas government against one citizen. Here is how it went down [1]The Arkansas Times reports that Ms. Fite has responded to these allegations, ""When employees of state agencies appear before legislative committees, they are asked to be clear as to whether … Continue reading.
Constituent Speaks Out Against Charlene Fite, She Retaliates.
Casey Copeland is an Arkansas who attorney who, as a side-gig, does contract work with the state as an attorney ad litem representing abused and neglected children. In March of 2021 he emailed his representative, Charlene Fite, to voice his displeasure of her sponsorship of HB 1570, This bill's purpose was to prohibit transgender persons gender-affirming procedures. This bill did pass, but luckily a federal judge recently blocked enforcement of this hate-filled piece of garbage legislation. Fite then did what any thin-skinned ego-maniac would do and forwarded the email to Marty Sullivan, the Director of the Administrative Office of the Courts. Sullivan then forwarded the email to the HR department and noted that "This isn't helpful at all."
The Firing of Casey Copeland with Complicity of the Courts.
Two days after all of this, Copeland was terminated from his ad litem contract. Unfortunately, we we've come to expect corruption from Arkansas politicians. Recently, in a federal trial, former state representative Marvin Parks testified that it is common practice for straw men to be used so that legislators can receive money that would otherwise be unlawful. Here we have a state politician, angry about a constituent voicing his concern, getting the constituent fired. Legislators want to teach creationism in school, but maybe they should teach more civics classes instead? What makes this chilling to a practicing lawyer is the fact that the Arkansas Courts were involved in this corrupt and blatant First Amendment violation. I mean, look at the letterhead of Copeland's termination letter:

"Supporting Courts, Ensuring Justice"?
Casey Copeland once ran against Charlene Fite for office. In Copeland's brief in support for a preliminary injunction, there is evidence that, during Copeland's race against Fite, Fite wrote to Janet Bledsoe, the Administrative Office of the Court AAL Program Assistant Director, to say that Copeland was "pulling votes from me." Fite asked Bledsoe to keep this a secret, and Bledsoe agreed: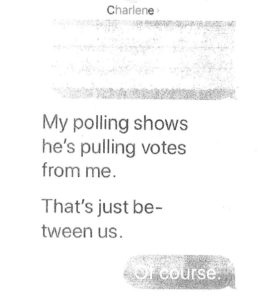 There is no evidence of Copeland performing poorly as an ad litem attorney. The timing of the firing, lack of any grounds for firing, along with the mounds of evidence of communication, leads any reasonable person to believe this termination was retaliatorily. He was fired because he exercised his First Amendment rights.
Charlene Fite and the Arkansas Courts, violated Casey Copeland's First Amendment Rights.
The First Amendment protects employees and contractors alike from retaliation in response to exercising First Amendment rights. Board of County Comm. v. Umbehr, 518 U.S. 668,673 (1996). The case is brought against Sullivan and the ad litem director Stasia McDonald since they were the ones who fired Copeland. From the evidence presented I think there is a reasonable argument for a case against Fite for tortious interference. To make that claim Copeland must prove:
the existence of a valid contractual relationship or a business expectancy;
knowledge of the relationship or expectancy on the part of the interfering party;
intentional interference inducing or causing a breach or termination of the relationship or expectancy; and
resultant damage to the party whose relationship or expectancy has been disrupted.
Crockett v. C.A.G. Invs., Inc.,2010 Ark. 90 (2010).
For now, the claim is just against Sullivan and Mcdonald. Although the case had not been completely litigated, on Friday federal district judge Price Marshall issued a preliminary injunction reinstating Copeland to his job as ad litem counsel. That was probably the easiest call in all of First Amendment jurisprudence. You can read the state's response to the lawsuit if you want, but as Copeland's attorney say in their reply to the response "If that justification sounds specious, it is."
The question remains – Will the Arkansas Courts take any action to punish this unconstitutional behavior?
If they don't, they risk their credibility as arbiters of justice. According to the website, the Administrative Office of the Courts is "an agency within the judicial branch of government that works to support the state courts on behalf of the Arkansas Supreme Court." That means that the Arkansas Supreme Court has superintending power over these employees of the AOC who conspired to have Mr. Copeland fired for expressing his First Amendment rights. As the Arkansas Times reported in 2017, Sullivan was appointed by Chief Justice Dan Kemp. You have to fire a court administrator if they blatantly violate the First Amendment like this.
The ball is in your court Chief Justice.
Justin Eisele is an attorney at the Seddiq Law Firm. He can be reached at justin.eisele@seddiqlaw.com. This post is based on the allegations filed in lawsuit 4:21-cv-477-DPM in the federal district court of the Eastern District of Arkansas.
References

↑

1
The Arkansas Times reports that Ms. Fite has responded to these allegations, ""When employees of state agencies appear before legislative committees, they are asked to be clear as to whether they are representing their employer, or speaking as a private citizen. The same should apply in written communication. "If you have additional questions, I'll do my best to respond. I have no knowledge as to the reasons for Mr. Copeland's being terminated. I just learned of this termination late today."