Federal Compassionate Release is a HUGE area of litigation right now. Without getting into too much detail, the federal compassionate release program has been around for years and years. Why have we not heard that much about it? Because, until recently, the BOP has been very stingy and heartless when reviewing federal compassionate release petitions. FAMM has some great free resources and we encourage you to read those after you are done here. Our attorneys Justin Eisele and Mirriam Z. Seddiq have handled hundreds of federal cases.
Below we have three big things to remember if you or a loved one are looking at filing a federal compassionate release motion.
COVID-19 Opened up Federal Compassionate Release.
COVID-19 has been an absolute nightmare for the entire country. Those who are inmates at the bureau of prisons and other jails and prisons are at some of the highest risk of infection for COVID-19. The Office of Inspector General is keeping statistics but below is a chart pulled on November 23, 2020. The number of cases is frightening and from what we hear from clients in the BOP, it is getting much much worse.

You can keep track of COVID-19 statistics on the Office of Inspector General website. Since these COVID-19 outbreaks, federal judges have taken the opportunity to take some of their rightful power back. For decades federal prosecutors have maintained control of the federal judiciary through mandatory minimum sentences and also horrific sentencing enhancements such as the career offender provisions. Judges have release hundreds of inmates due to the risks of COVID-19 infections and serious illness or death. If you or a loved one are in BOP custody and have preexisting conditions, or have contracted COVID-19, we may be able to help you.
There are Other Grounds for Federal Compassionate Release.
Without getting into the details of each and every ground for federal compassionate release, there are others that don't involve COVID-19 health risks.
Death or Incapacity of Caregiver. One example is if a caregiver of a child of someone in the bureau of prisons dies or is incapacitated, there may be relief under federal compassionate release. There are many factors to this request for relief so it would be best to consult an attorney to see if you have a case.
Age-Related Claim. Depending on the circumstances of their conviction and sentence, many elderly inmates are eligible for compassionate release. Inmates who were sentenced for a crime that occurred on or after November 1, 1987 and have served 30 years or more of their term of imprisonment, become eligible for compassionate release at the age of 70. In addition to these inmates, those with medical conditions who meet the following criteria, are also eligible for compassionate release:
are age 65 or older
suffer from a chronic medical condition
experience deteriorating mental or physical health (as a result of the condition)
are unlikely to improve with conventional treatment
have served at least half of their sentence
Older inmates significant risk for debilitating illness may also pursue compassionate release for medical purposes. The statistics show that inmates starting at 50 years and older are and significantly greater risk of hospitalization or death: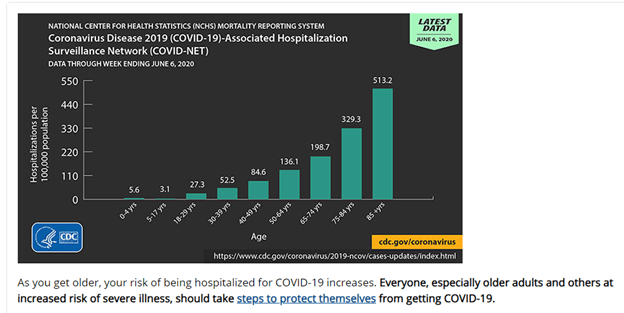 We encourage anyone who is 50 and older in the BOP to at least consult with an attorney competent on federal compassionate release.
You Must Exhaust Your Remedies Before Filing Your Motion.
As with anything, there are some exception but generally speaking you must first request compassionate release from the Bureau of Prisons. This is known as "exhausting" your remedies. COVID-19 has created some helpful case law but we strongly recommend consulting with an attorney before filing any motion in court. You want to make sure that the federal prosecutors can't do what they like to do and have your petition dismissed on a technicality. It is not a complicated process but you need to follow it to get your best shot at federal compassionate release.
Many times our clients come to us after having already filed with the BOP. That's great! But, if you have not, that's great too. We can advise you on what you need to do and how.
Free Consultation
For anyone reading this article, we are offering free consultations for federal compassionate release.